Pet Memorial Testimonials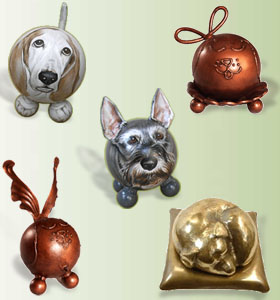 The 'thank you's I cherish...
Dear Alexandra,

I received Lula's urn a few days ago....it's really hard to put into words just how lovely it is.  It looks exactly like Lula did when she was curled up asleep...it's incredible that with a few curved lines and impressions, Steve was able to evoke my Lula so perfectly.  What amazing artistry.   My boyfriend and I both cried like brokenhearted children when we opened it.  Truly it is everything I hoped it would be - a beautiful, original, comforting, personal and worthy memorial for my beloved Lula.  

I haven't yet placed Lula's ashes inside...Miguel and I are just waiting for a quiet day in the next week or so when we can be by ourselves and give that process the time and reverence that it deserves.  I just wanted to write and thank you, and ask you to pass along my thanks to Steve.  It's clear that you both understand and appreciate what it means to love and lose a companion, and I hope it brings you peace and happiness to know that your work blesses those of us who have been fortunate enough to find you.  It eases some of the hurt.  Words aren't sufficient, so I will simply end with Thank You.  

Wishing you all the best....Tracy


---
Dear Alex,

I wanted to take a moment to let you know that the pet urn you prepared for my darling cat Chelsea arrived in Switzerland today.  I have already placed her into her new home and have the urn next to me on my desk.  I am ashamed to say that Chelsea died eight years ago and that she has been in the horrible metal box they gave to me when they returned her ashes.  I just never found anything I really loved and I knew she deserved a really special final resting place.  How wonderful to know that she is now in a memorial befitting her and that I can keep her near me wherever our travels take us.  Even after eight years I still tear up when I think about her.  Thank you again for the really wonderful service you provide and thanks even more for being willing to send the urn all the way to Switzerland.

With great appreciation,

Joanna
---
Alex -- better late than never!   I wanted to thank you for the beautiful urn - it far exceeded my expectations!   I had a very private special ceremony to place Sandy's ashes in it.  It was an emotional moment, very sad but at the same time it brought back so many wonderful memories -- so it was also very special.  I know Sandy is happy in her new resting place, and her ashes are now in a place of honor in our house (just like she is in my heart).   Thank you for such a special product, you do a magnificent job!

Mariana
---
Alex, the 4 urns arrived this afternoon.  They are gorgeous!  They will be a continuing source of comfort to us, providing such a beautiful resting place for our beloved, precious little dogs.
Thank you and Steve so much,
Bobbi
---
Alexandra,
I apologize for not writing sooner but I've been away on business travel.  I did receive Trader's urn and it is beautiful.  Thank you so much for creating it for me.  While it's a bit sad to see both his and Marco's urns standing side by side, I do smile because they remind me of the fun we had together and their personalities.  You truly have a gift.
Thanks again,
Sandy
---
Alex,
OMG. It is simply perfect.. You captured his spirit in metal. We love the custom additions so much.  We can never express what you have done for us.   
I hope everyone who is looking for a pet urn finds you online.. We feel blessed we found you.
Looking at the possibilities of urns you provide then finding and customizing that special one is soothing to the soul.  Knowing we are providing a very special resting spot for a wonderful pet who gave so much to us in life is one of the big steps to healing.  
You are an angel and I will refer everyone to your site and services.
Thank you,
Lydia
---
Alex,
I'm not sure if you remember me, our kitty Plato passed away October 6, 2006 and we ordered the Grace memorial urn from you for him.  I never send you a message but we received the pet urn, obviously, and it is just gorgeous.  It's taken me a long time to get over my boy and I wanted to send you something sooner, but tears welled up as I typed. 
We miss Plato dearly, each and every day.  While no one can replace him, we have been able to open our hearts and adopted two kittens we were fostering.  They have brought a lot of joy to our lives, but there are times when I'm reminded of my boy by something they do.  Thank you so much for sharing your artistic talents in such a gorgeous way.  We havent been able to put Plato's ashes in the urn yet, for some reason that just seals it for me and i'm not ready to do that.  But we light it and our hearts are warmed by the glow each time. 
Thank you again.
Sincerely,
Charla and Mo
---
I got his urn today. This is for the Testimonials page... Harri's urn came today. He's all moved in, his ashes, and his tags...the ears look like his ears! I got blue candles to put in it. Harri always loved blue. There are pictures of it here: Click here Thank you for making these. I couldn't imagine him anywhere else. Coco
---
Hi, Alex,   I just placed Muffin in her new 'home'.  I think she would be happy.  The urn was absolutely beautiful.  I have passed your website to everyone I know that has a pet.   Muffin was a stray that was wondering the streets for a year before I got her.  Friends of mine found her and thought she would be perfect for me.  Were they ever right.  She lived for 18 years and did not want for anything.  Yes, you could say she was spoiled, but she deserved it.  No animal should be homeless and hungry and unloved.   She was always with me.  To this day, I keep waiting and watching for her.  I miss her so much and I just cry when I think about her.  I just hope she forgives me and understand that putting her to sleep was because she did not deserve to suffer anymore.  She deserves to rest and play and wait for me at the Rainbow Bridge.  I will come for you Muffin.  I will always love you.   Thank you again, Alex for Muffin's new 'home'.   
---
I felt a little awkward adding these testimonials, but I really want you to feel comfortable purchasing my pet urns and want you to know what other pet owners who have gone through this same loss have to say. I am also happy to provide references by request from those who have purchased my pet memorial urns in the past. And I want to thank everyone who has written me these thank yous. Thank you so very, very much. It is the best part of what I do. I hope to provide some comfort as you wait to meet your little one at the Rainbow Bridge.
---
Dear Alexandra, Nia's urn arrived several days ago, and we are so happy with it. Thank you for making such a wonderful piece of artwork in which to house our beloved Nia's ashes. We are able to burn a candle or incense in the candle holder part, and the beautiful dark color, the heart and simple design reminds me of her spirit. Take care, and thank you again. --Audrey
---
Hi Alex, just wanted to let you know that we received Star's urn. It is truly unique and we love it. It is something we will cherish always. Thank you, Jan
---
Hi Alex, Augie's urn arrived today. I absolutely love it. Your pictures are great, but the product in hand is even better! Thank you so much for your packaging style, also. It was nice to see that it was sent in such a caring way. Nancy
---
Hi Alex, I got Malcolms urn yesterday. It is beautiful thank you so much. I can't express how much it means to me to have such a cool memorial. I haven't shown it to my hubby (Malcolm's owner) yet but i know he'll be floored. The persentation and the love you poured into this means so much to Mark and I. It was really special. OK i'm crying thank you for being a part of our healing process. Love Light and Hope, Carley
---
Dear Alexandra, I just received Dorkmo's urn, and it's just beautiful. Thank you so much (and thank you for giving her "pointy ears")! I'm planning to keep it by our fireplace as a fond reminder of what a wonderful dog she was -- and she loved to lay in front of the fire. Thanks again, Cheryl
---
Dear Alexandra, I received T-bone's dog urn today. It is beautiful and unique and fun! (Just like T-bone!) All the things I was expecting and more. Thank you so much! I have told all my friends who have pets, about you, and have given them the link to your website in case they ever need your services. I'm very sad that my little guy passed away, but I have found great comfort in knowing that I've had your help in providing him with a custom made "home" to rest in. Thank you for providing animal lovers, like myself, this wonderful alternative to the "traditional" urn. Thanks again! Valerie
---
Hello Alexandra, First, please accept my apology for this late email. My life's "plate" is beyond full and I'm running behind!!! Second, we received Tycho's urn on Friday, March 28th, in perfect condition. Third, I was truly moved by the depth of care and attention you gave to packing and presenting Angel Kitty. I cried as soon as I saw and smelled the beautiful packing materials enclosed. I really felt as though you knew and loved Tycho. Actually, I'm crying now, just from the memory of receiving his urn. If he were here he'd be at the box, sniffing it intensely. He'd then look for a way to lay on the urn! Tycho's ashes are next to his urn at the moment. I always brought out his carrier and let it sit open for a while, before placing him in it so that he would be use to it. Some things never change...he trained me well. If you look at the attached family photo, which was taken the night before his passing, you can see the shelf where Tycho's urn and memorial now reside (on the shelf behind us, above our heads). I want to give you my heart felt thanks for making this painful experience a little easier. You are a true artist to the core - very sensitive and respectful, professional and thoughtful. I will be passing your name and contact information on to anyone in need of your creations and services. I have already told Tycho's vet and her assistant about you and gave them your web site address. In closing, I wish you all the best and I trust your business will prosper!!! It is so needed in this world and I am so grateful that I found you. The Neraas Family thanks you, so very much. With prosperous blessings, Marliene
---
Hello Alexandra, I received Allie's urn and it is so beautiful. I am very pleased with it and it will bring me great comfort. Thank you for your wonderful talent. Sincerely, Elizabeth
---
Dear Alexandra, I received the urn today. It's so sweet. Thank you very much for taking the time to make this for me. I also loved the packaging! I will pass your website on to my friends and family. You are a very thoughtful, sensitive and caring person. Thank you so much. Kay
---
Hello Alex: We received our pet urns and I have to say they are wonderful! The quality and workwomanship are outstanding. We were so impressed and touched by the way they were so lovingly packed. Thanks you so much for the care that you've shown towards Mandy and Phaedrus. We can't wait to place the urns on our mantel at our lake house. Thanks again!! Denise and Kevin
---
thank you so much. It truely is wonderful. It made me cry when I saw it, but for other reasons. I am glad Emmy will have such a nice new place.
---
i think lucy's urn is beautiful, as i knew it whould be. thank you so much. she is truly in a special place, we can move her around the house to all her favorite spots, too. thanks again, lori
---
Hi! I received Morticia's urn and absolutely love it! Thanks also for the considerate extra touches (scented packing material, funnel, etc.). Best of luck to you! Regards, Tracy
---
Hi Alexandra, I meant to email you last evening to tell you that Ciara's urn arrived yesterday and it is absolutely beautiful--even better that the pictures on your website. The quality is wonderful and I'm very pleased. I've got a call into the crematory who put her ashes originally into a plain ceramic urn to see how to open that one up and relocate her. I can't wait for her to be where she belongs. The urn is as unique and special as she was. I, thank you, so much for sharing your talent.-Jo-Anne
---
Hello Alexandra, We received the urn -- thank you very much!! We really appreciate it...it came out great!! We're so glad we decided to go with your urn as opposed to just the standard usual wooden boxes you see everyone selling. If ever we come across anyone who might need your services, we'll be sure to pass them along your information! Thanks again! April & Paul
More pet urns testimonials here...
Back to All Pet Urns