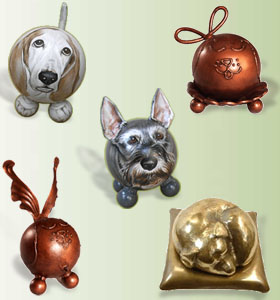 Useful Pet Loss/ Pet Urn Resources
There are so many good resources that speak to the loss of your pet. The grieving process is similar to the loss of a family member or good (human) friend.
I think the one distinction that stands out is society's expectations of how you should feel. Society sometimes tells us that we should not be as sad as we feel, as a pet is 'less valued' than a person.
Emotion is emotion. Grief is grief. We receive unconditional love every single day from a pet that is in our lives. That can create a huge emptiness when they pass. And that should never, ever be discounted.
Here are a few links for reading about the phases of grief and how to handle it with yourself, and your family.
* Five stages of mourning and how to explain the death of a pet to your children (broken down by age group, which is wonderful):
HomeVet.com: Pet Loss
* The Humane Society of the United States addresses grief and also how it affects seniors: Humane Society:
Death of Your Pet
* Moria Allen always has wonderful information:
Pet-Loss.net
Ten Tips on Coping with Pet Loss
* More great information. Especially what 'not' to say to a child:
PetLoss.com: Grief and Pet Loss
I hope you can find some good information here, Alexandra
Special We Are The Cure Pet Urns


I had the wonderful honor of being asked to create a special line of pet urns for We Are The Cure. I have written about them before, as I am also a guest blogger there. They are fully committed to finding a cure for cancer in dogs.

It seems to be so very pervasive. I get calls for orders all the time because people have lost a pet to cancer. These wonderful and amazing people are doing the work that needs to be done!

You can visit them at We Are The Cure, you can see my special line of urns at this link: pet urns.

Thank you. And, again, they really are deserving of your support. Can you imagine the wonderful, amazing, glorious day when cancer is just a thing of the past?
MORE:
Pasadena Humane Society and SPCA
---
PET LOSS:
---
Celebration Forest
-Plant a tree in Celebration Forest! When you wish to recognize a special event such as a wedding, birth, anniversary, holiday, or the passing of a loved one or family pet, Celebration Forest will plant a memorial tree on a protected forest preserve and dedicate it in honor of the occasion. It is the perfect gift that will last a lifetime!
---
Cheers Pottery Ceramic Pet Urns
-Ann Cheers creates beautiful custom ceramic urns for your pet.
---
Handcrafted Pet Urns
Description: We sell whimsical and unique hand crafted pet urns that memorialize the spirit and heart of your pet artistically like no other pet ashes urn in one-of-a-kind pieces of art by Alyson Whitney.
---
Cremation Urns
-Selecting a cremation urn, or funeral urn, is a very personal endeavor. Urns Etc. can help you by providing a large array of urns and useful information
---
Eternal Pet Studio
-Hand crafted cat cremation urns.
---
Grief Healing
---
Richard Neville's Pet Loss/Grief Pages
---
---
---
PET RESOURCES:
---
The Cat Album
-The interactive cat site.
---
Cat Grace
-Cat furniture, pet totes/carriers, Animal Planet products, pet jewelry, cat and dog bowls, pet pockets, and more.
---
TheCatSite.com
- The Place on the net for cat lovers!
---
Find Pet Stuff
- Keep your pet Safe, Well Behaved and Happy with our fine pet products. We donate 100% of our profits to the ASPCA
---
Dog Lover Gifts
- at Gifts 4 Dog Lovers.
---
HandicappedPets.com
- For Elderly, Injured, and HandicappedPets: Products, Services, And Support.
---
New York Tails
- A magazine for urban pet owners which deals with issues such as pet-friendly housing, pet care, and pet training.
---
Pet Site Guides
- No matter if your pet is large, or small, swims, or flies, you have found the perfect place to end your search.
---
UK National Missing Pets Register
- The UK National Missing Pet Register provides a range of services for pet owners who can search our comprehensive UK missing pets and lost pets register database. www.nationalpetregister.org
---
---
OTHER RESOURCES:
---
@LA - the guide to Greater Los Angeles and Southern California
---
www.CraftSiteDirectory.com
---
Back to All Pet Urns