Sleeping Dog Urn with Base
Note! Due to high demand all Sleeping Cat urns are backordered. They will take 6-10 weeks to create. We will do our best to get the to you as soon as possible, but we cannot guarantee it!!!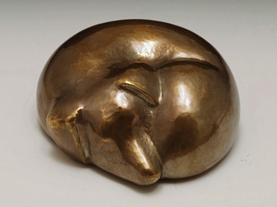 Here is Steve Shelby's Sleeping Dog Urn, but on either a hand-crafted brass pillow, or a walnut base. Both these bases add a new dimension to the Sleeping Dog Urn.
With a photo of your dog, Steve hand hammers out his or her form into the brass sheet, creating a one of a kind urn that is truly unique to your dog. These urns have a wonderfully 'connected' feel to them (my apologies, I cannot think of a more fitting word for the wonderful comfort these urns bring).
For the Pillow Base, the plaque will be on the 'Back' or the underside of the 'Base' of the Dog. On the Walnut Base the plaque will be on the front, unless otherwise requested.
---
BRASS PILLOW BASE
---
COPPER PILLOW BASE
---
WALNUT BASE
---
To figure what size dog urn is appropriate for your dog, the weight specified is the maximum weight of your healthy cat before cremation which will fit inside the dog urns. Cremation procedures can vary, please allow for a bit of extra room in your urns to be safe.
Once you have placed your order, simply send one or more photos to
[email protected]
Back to All Pet Urns