Brass Sleeping Dog Cremation Urn
Note! Due to high demand all Sleeping Cat urns are backordered. They will take 6-10 weeks to create. We will do our best to get the to you as soon as possible, but we cannot guarantee it!!!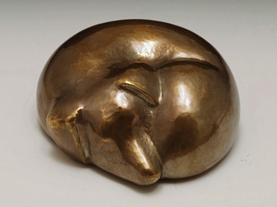 "Dear Alexandra,
I received Lula's urn a few days ago....it's really hard to put into words just how lovely it is.  It looks exactly like Lula did when she was curled up asleep...it's incredible that with a few curved lines and impressions, Steve was able to evoke my Lula so perfectly.  What amazing artistry.   My boyfriend and I both cried like brokenhearted children when we opened it.  Truly it is everything I hoped it would be - a beautiful, original, comforting, personal and worthy memorial for my beloved Lula."  
Click here to see custom samples!
This is another one of artist Steve Shelby's marvelous urns. The photo does not do it justice. Created in hand hammered brass, there is a warmth and softness to this dog urn that is extraordinary. The peaceful repose brings a calmness and serenity to your heart. I cannot recommend this urn more highly. Truly a work of pet urn art!
Steve creates each of these dog urns indivudually based on your dog. The above is a custom order. We will ask for a photo of your dog (or at least breed) and Steve will work from that to create a stylized urn especially for your own loved dog.
Please note that these are abstract sculptures, they are not an exact visual representation of your dog, rather a stylized sculpture inspired by your dog, and his or her spirit and love.
You can choose to have the plaque on the back or bottom of the dog urn.
Each of these pet urns will be unique.
---
---
Extra Large (100-150lbs.) -Please contact us for pricing
---
To figure what size dog urn is appropriate for your dog, the weight specified is the maximum weight of your healthy cat before cremation which will fit inside the dog urns. Cremation procedures can vary, please allow for a bit of extra room in your urns to be safe.
Once you have placed your order, simply send one or more photos to
[email protected]
These are some samples of Dog Urns that have been created by Steve for different dogs. Send us your dogs picture and Steve will create one for you!
Hi Alexandra,
OH MY GOD, I have just received Jake's Urn and I can't stop crying. It's absolutely gorgeous just like you said. I'm going to put Jake in his new home later this evening. I just have to find somewhere to put him then. Thank you so much! PLEASE thank Steve for me as well. He's done a brilliant job. He's got Jake's ear's and nose down to a tee! I'm at a lose for words.
I can't thank you enough. Most of the urns I looked at over here were naff, just not for Jake. This is just beautiful!
THANK YOU SOOO MUCH...
Alex, the 4 urns arrived this afternoon. They are gorgeous! They will be a continuing source of comfort to us, providing such a beautiful resting place for our beloved, precious little dogs.
Thank you and Steve so much...
Back to All Pet Urns