The Painted Puppy Urn
I received my urn yesterday...it looks just like Ziggy!!  I was even able to fill it myself and really thought I would need some help, but it was kind of like taking care of her since I could see her face and pet her head!!!  I had it beside of my bed since she slept with me every night.  I love that I can still see her and feel she is a part of my life!!!!!   Thank you so much-
(Please scroll down to order)
(Please scroll down to order)
(Please scroll down to order)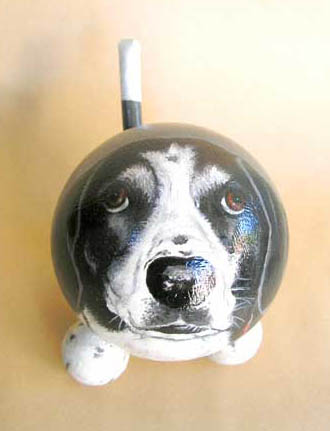 The Painted Puppy Dog Urn
I am so very proud to offer this collaboration dog urn. The artist Ferril Nawir and I have joined forces to create something that I feel is wonderfully unique. I know you will too! These urns capture the spirit of your dog. They are all unique and painted directly from photos of your own pet. Not much needs to be said about them, as the pictures tell it all. The soulful eyes, the happy smiles, the strong, powerful gazes. Ferril captures the essence of your dog. To be with you always.

All we need from you is a photo of your dog and we will hand paint it on the urn for you.
Let us help you honor your fabulous dog. Your dog deserves it!

For custom ears go to: Custom
Each urn takes 6-8 weeks to create. I take payment by eCheck, Credit Card OR Paypal.
Please fill out the "custom name on urn" and click on "add to cart":
---
---
Raised Puppy Ears $38
---
Painted Toes (front feet only) $20
---
---
To figure what size dog urn is appropriate for your dog, the weight specified is the maximum weight of your healthy cat before cremation which will fit inside the dog urns. Cremation procedures can vary, please allow for a bit of extra room in your urns to be safe.
Once you have placed your order, simply send one or more photos to
[email protected]
Back to All Pet Urns