Sterling Silver Sleeping Dog Cremation Urn
Note! Due to high demand all Sleeping Cat urns are backordered. They will take 6-10 weeks to create. We will do our best to get the to you as soon as possible, but we cannot guarantee it!!!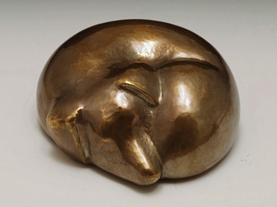 "Just received the urn. It is perfect. Just what I was hoping for. I can't thank you enough for you kindness in helping me in this difficult time."
People have been asking us for Steve's Sleeping Dog Urns in silver. We absolutely can create this for you. These are made in sterling silver. They are not plated, but full sterling silver, so you are buying something that is a true treasure and investment. As the price of silver changes, we go by market value. Silver prices are fluctuating constantly. The price on 3/14/11 is about an additional $1500-$3000 in addition to the cost of a standard brass Sleeping Dog Urn. If you are interested in one of these amazing urns, please send us an email and we will be happy to work with you to create a beautiful treasure for your dog or cat.
These dog urns are stunning, stylized sculptures that are inspired by your beautiful pet.
The plaque can go on the bottom or the back of the urn, depending on if you would like the name visible.
---
To figure what size dog urn is appropriate for your dog, the weight specified is the maximum weight of your healthy pet before cremation which will fit inside the dog urns. Cremation procedures can vary, please allow for a bit of extra room in your urns to be on the safe side.
Once you have placed your order, simply send one or more photos to
[email protected]
Back to All Pet Urns