Elongated Dog Cremation Urn
Note! Due to high demand all Sleeping Cat urns are backordered. They will take 6-10 weeks to create. We will do our best to get the to you as soon as possible, but we cannot guarantee it!!!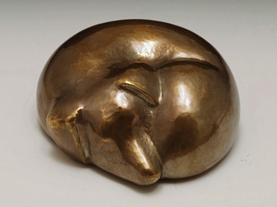 "Alex
- thanks so much. I received Gidget's doggie urn today and it is perfect. She is now resting at peace on our mantle. Thank you for your help during this difficult time!
This urn was inspired by one of our wonderful customers. Her dog used to sleep in this position, straight out instead of curled up, so we created the urn that way.
Steve will use a photo of your dog to create a sculpture of your little angel. This is a beautiful way to memorialize your loved pet. The ashed go into the top (from underneath the urn, and the bottom is a solid walnut base.
As these are abstract sculptures, they are not an exact visual representation of your dog, rather a stylized sculpture inspired by your dog, and his or her spirit and love.
The cremains will be securely sealed within the urn with screws and a EVA foam gasket. You can either keep the remains in the bag they are already in, or you can place them in freely.
---
---
To figure what size dog urn is appropriate for your dog, the weight specified is the maximum weight of your healthy cat before cremation which will fit inside the dog urns. Cremation procedures can vary, please allow for a bit of extra room in your urns to be safe.
Once you have placed your order, simply send one or more photos to
[email protected]
I wish I could help them all. I wish I could just make all the pain go away. I am so sorry that I cannot. But when your dog dies, I hope at least I can make it a little bit better.
Back to All Pet Urns