Ancient Ceramic Dog Cremation Urn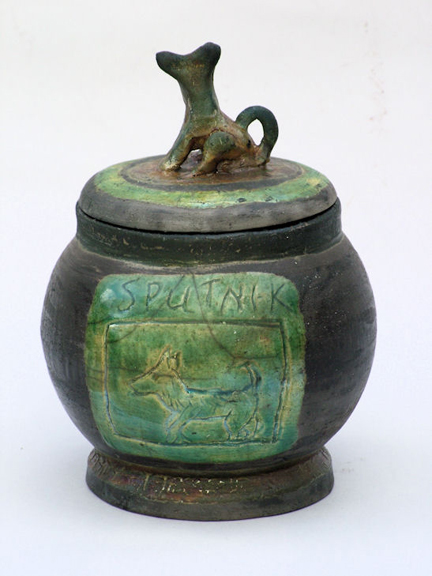 Please note: THIS URN IS TEMPORARILY UNABAILABLE, thank you.
I love this urn! When I was young, I loved history, ancient cultures, anything with a story. This dog urn has a story. A history. It reminds me of a certain timelessness. As if our love travels throught the ages. Back to the beginning. And onward to eternity.
This is also our first offering of a ceramic urn. So there is history in that as well.
* This urn is 7 1/2" high, 5 1/2" round. Hold a generous 2 1/2 c./36 c.i., so it will hold a dog that weighed up to 36 lbs. at their healthiest.
* Stoneware, Raku fired, with glaze and wax finish (cracks are expected with the process.)
* Hand wash, soap and water. Soaking not recommended.
* Can be glued or closed with wax to seal.
* Can be created for a dog, cat, rabbit, iguana, more.
To learn about the amazing artist, Nan Wollman, who created this beautiful urn, click here: Nan Wollman
Each urn takes 6-8 weeks to create. I take payment by eCheck, Credit Card OR Paypal.
Please fill out the "custom name on urn" and click on "add to cart":
---
ONE SIZE- (Holds a dog that weighte up to 36 lbs. at their healthiest.)-$300
---
Back to All Pet Urns