The Painted Kitty Cat Urn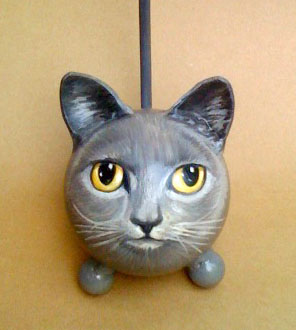 How fabulous is this wonderful kitty urn! Artist Ferril Nawir and I collaborated on bringing together my classic cat urn shape with his wonderful talent of painting portraits.
Send us a photo of your loved kitty and we will paint a portrait urn especially for you! There will be no other one like it.
What a wonderful way to remember your angel!
Each urn takes 6-8 weeks to create. I take payment by eCheck, Credit Card OR Paypal.
Please fill out the "custom name on urn" and click on "add to cart":
---
Sizes
Text up to 25 characters
---
To figure what size cat urn is appropriate for your cat, the weight specified is the maximum weight of your healthy cat before cremation which will fit inside the cat urns. As cremation procedures can vary, please allow for a bit of extra room in your urns.
Once you have placed your order, simply send one or more photos to
[email protected]
I cannot imagine a world without pets. Without cats. Without dogs. Where would we be? Who would we be? Yes, we would not need to go through this suffering that we must at the end of their lives. But their death, as painful as it may be, also reminds us of how lucky we were to have known them in the first place. I hope my urns can help you with that memory.
Back to All Pet Urns