Ferril Nawir- painted pet portrait memorial urns and batiks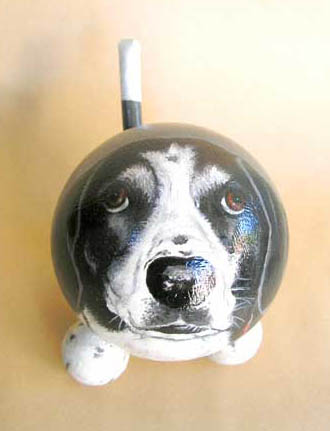 Dog Urns
and
Cat Urns
You have seen Ferril's wonderful work with the Painted Puppy Urn and the Painted Kitty Urns. What you might not know is his amazing background. Read on:
The Sumatran jungle, thick with moisture and heavy with lush fecundity, hides a pair of amber and black beasts, walking now with graceful ease, taut muscles powerfully rolling beneath majestic stripes. A man walks up a narrow trail that cuts through this lavish density to the other side of the mountain, and as he nears a bend, he turns. His eyes lock onto the two tigers closing in on him. He smiles. And begins to caress their faces, before turning back to the trail, his tigers following behind him.
This was my grand-father.
This is part of my ancestry.
My heritage is rooted in a world where mysticism thrives alongside industrial progress. How to link this Asian world of the mystical and primal with Western contemporary reality has been my life-long quest. How to bridge these worlds, to bring the ancient into modern relevance, to find the unity in seemingly opposing truths is the drive behind my art.
I found the bridge in the approach. Where artists approach a canvas with oils, watercolors and acrylics, my cultural heritage gave me a three dimensional gift, where art is brought out from the depths of the canvas, rising to the surface. Color is transferred in dyes, saturating and layering, colluding and meshing, only to be disciplined and guided by the power of wax. Water becomes an active player in coaxing the images to the surface, readying the canvas for deeper stratums of penetration, until finally, the image that I held in my mind reveals itself, expanding from deep within the canvas. Sustained, held, captured.
This is Batik.
My canvas is fabric and wood.
Through this portal, I pull forth my art, where the spirit of my ancestors, and the mysticism of their world, finds a place to belong, today.
from

Pet Portraits

Born in Indonesia, Ferril Nawir was raised in a culture where mysticism thrived alongside the realities of burgeoning industry and political turmoil. Religious devotion of different faiths co-existed with folkloric beliefs in white and black magic, good spirits and demons. Economic development disguised growing political unrest and in the midst of the political revolution of the 1960's, Ferril's family immigrated to the United States and settled in Los Angeles, California.
This was the beginning of an inner journey that honed his ability to straddle two worlds.
The verdant soil of Java, the Hindu temples of Bali, the musical lilt of the Gamelan, and the shadow puppetry of the Wayang Kulit were replaced with the trauma of the Vietnam War, a multi-cultural city, high-school gangs, and Jimi Hendrix.
The desire to bring the mystical and primal roots of his culture to the realm of the modern world in essential and meaningful ways began to set the stage for his art. He began to work in oils and watercolors and attended Los Angeles Valley College while working as an apprentice to respected artist, Manuel Dreiband. Ferril also began to study the mysticism of Native Americans and Egypt as well as Aztec and Mayan history to explore similarities in myth and symbols. He continued to further his studies in watercolors and oil portraitures at the Art Students League of New York.
But it wasn't until he returned to Indonesia in his early 20's that he tapped into a part of the Indonesian cultural DNA in the study of Batik, an ancient textile art form perfected there over a thousand years. Ferril mastered the art of Batik and infused it with a modern aesthetic. Traveling between Indonesia and the United States, Ferril became a member of the Colorado Artist Craftsman Organization and his work was exhibited in the Renwick Gallery at the Smithsonian Institute in Washington D.C, and the Verbena Gallery in New York City, among others.
At the premiere of the New York Fabric show in N.Y.C, Ferril exhibited his exclusive Batik fabrics and attracted an impressive clientele such as designers Perry Ellis, Calvin Klein, and Laise Adzer. He began to sell his commercial work to respected stores such as Henri Bendel and Fred Segal, as well as his Batik tapestries to luxury hotels such as the Mauni Lani hotel in Kona, Hawaii.
Ferril continued to strive towards pushing his art to new dimensions and created Batik on wood. This broke new ground in bringing nature into his artistic vision and uniting the essence of his heritage with contemporary dynamics. He expanded into interiors and applied Batik on wood on panels and furniture, winning commissions for Sheraton, Bali Padma and Benoa hotels, to name a few.
Indeed, at the first International Batik Conference in the U.S in 2006 titled the "Eloquent Wax "exhibition sponsored by the Massachusetts College of Art in Boston, Ferril's Batik on wood was featured as one of the main lecture topics.
His one man shows and group exhibitions of wood Batik and silk paintings continue to present works of art which are an insight into the creative space between opposites; They act as a bridge between the ancient and contemporary, the mystical and the tangible, spirit and flesh, East and West.
Back to All Pet Urns